Report: Users and sessions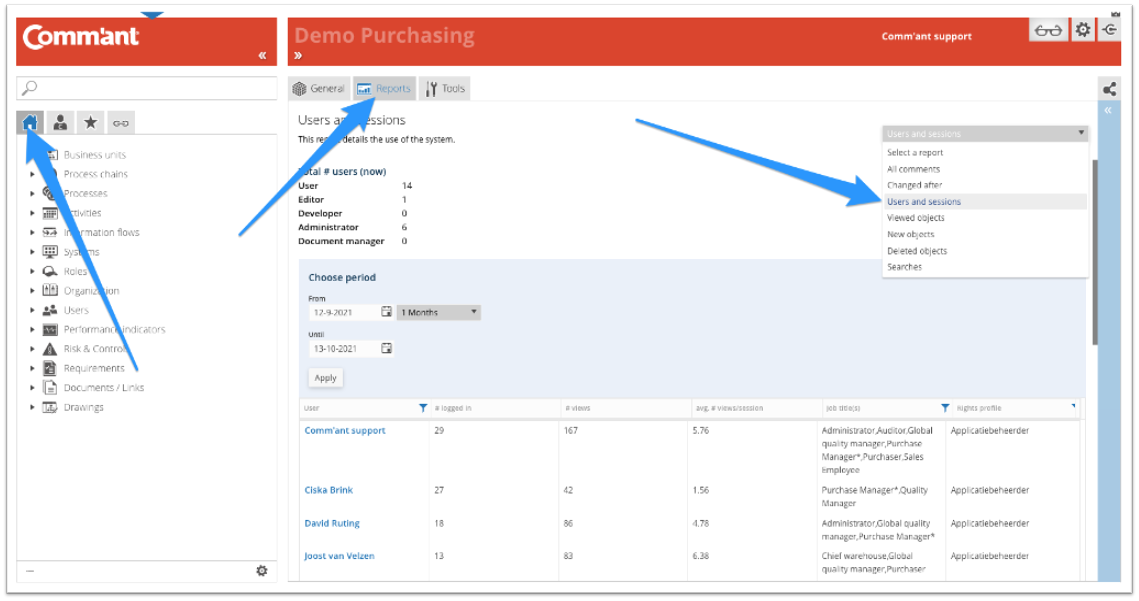 On the one hand, this overview provides information on the number of registered users at the time you request the overview, broken down by the different Rights profiles.
On the other hand, the overview provides information on the user intensity per user, over a self-defined period. By default, a period of 1 month is set: the past month. You can set the period yourself: by choosing a predefined number of months, or by entering a specific start and end date. Click 'Apply' to refresh the results.
The overview has the following columns:
User, the name of the registered user.
# logged in, the number of times this user has logged in to the system in the selected period. Logging in is the same as starting a new session (if, for example, Single Sign On is used, or if the choice was made to remember the login data so that entering the user name and password is not necessary).
# views, the number of times an Object was viewed, for example a specific Process chain, Information flow, or System.
# views/session, the average number of views per session, over the chosen period.
Job title(s), the organizational functions to which the user in question was attached, in the selected period.
Rights profile, the rights regarding the use of Comm'ant, which were granted to the relevant user, in the chosen period.
Note! Because a user may have been assigned different functions or a different rights profile in the selected period, the same user may appear several times in the view. Each time with the corresponding number of sessions and views.
Sort
By default, this overview is sorted by the column # logged in, but by clicking on a column title, you can change the sorting.
Filter
Several columns also give the possibility to set filters (click on the funnel icon

).
This allows you to quickly search for a specific User, or filter by a Rights profile (e.g. Developers only).
Export
You can easily export any overview to Excel using the button 

---
---