Statistics: introduction
With the release of Comm'ant X version 10.0.43 (released in November 2020), expanded user statistics have become available.
The statistics information is only available to users with the Application manager rights profile.
With the help of the various statistics reports, you – as the application manager – have insight into the use of your management system…
First and foremost, this information is intended to help people, especially those who are new to Comm'ant. Research, with the insights from the user statistics, why some users work a lot with the system (especially give compliments and make them ambassadors of the management system) and others do not log in that much (research why that is and offer help). Make contact and start the discussion on how they can best be supported to also gain maximum benefit from Comm'ant. For example, invite groups of users for a (re)introduction to the use of Comm'ant and emphasize why the organization finds it important to consciously work according to the agreed way of working and to receive feedback on the content of the agreed way of working.
Where to find the statistics?
The various user and usage statistics can be found under the Reports tab.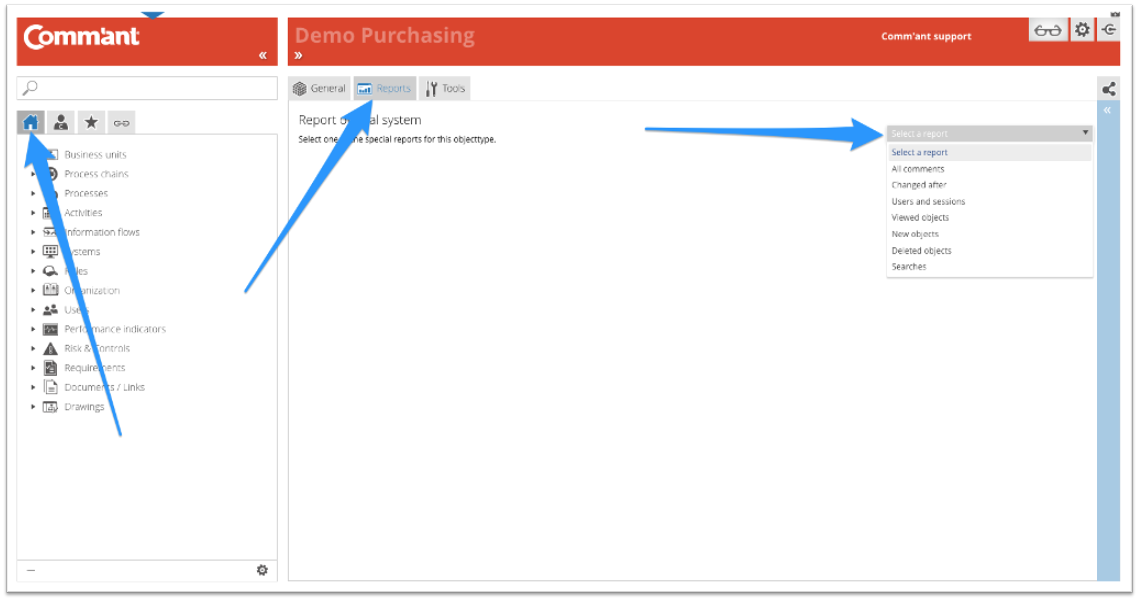 Which specific reports are available depends on where in Comm'ant you request them.
You can access the statistics on:
The Homepage, for an overall view of users and usage.
On an Object type page (for example, Process chains or Systems), for statistics limited to the respective Object type.
Statistics on the Homepage
The most comprehensive statistics can be found on the Homepage:
---
Statistics on the Object type pages
All statistics that you can access via the Homepage – with the exception of the "Users and sessions" overview – are also available via the Object type pages (such as Process chains, Systems, or Documents/Links). The main difference is that in this case the overviews are limited to the respective Object types.
The "Viewed Objects" overview on the Process chains page is limited to only Objects of the Process chain type.
The same applies to the "New Objects" and "Deleted Objects" overviews.
The overview "Searches" on an Object type page, is limited to the display of Found search terms and Found Objects that were a result of the search.