Application bar

On the left of the Application bar at the top of the screen, you will find the Project selector (if your system contains multiple projects). The Application bar also contains the buttons to widen ">>" or narrow "<<" the Navigation menu. Double-clicking on the logo in the Application bar takes you to the Homepage.
On the right, the Application bar shows the name of the project you are logged in to, your name as a user, and the buttons for View or Edit (only if you have development rights), Help, Settings, and Logout.
Finally, right above the button for Logout, there is a small button for "Full-Screen mode". Clicking this button, makes the Application bar and the Navigation menu disappear from view.
The Project Selector
Within Comm'ant it is possible to manage multiple projects. This can be useful, for example, if you have a test and production environment, or if you have several (foreign) branches and want to record all information for each location separately.
To open another project, click on the blue arrow at the top of the Application bar. This opens a drop-down menu with an overview of the projects available to you.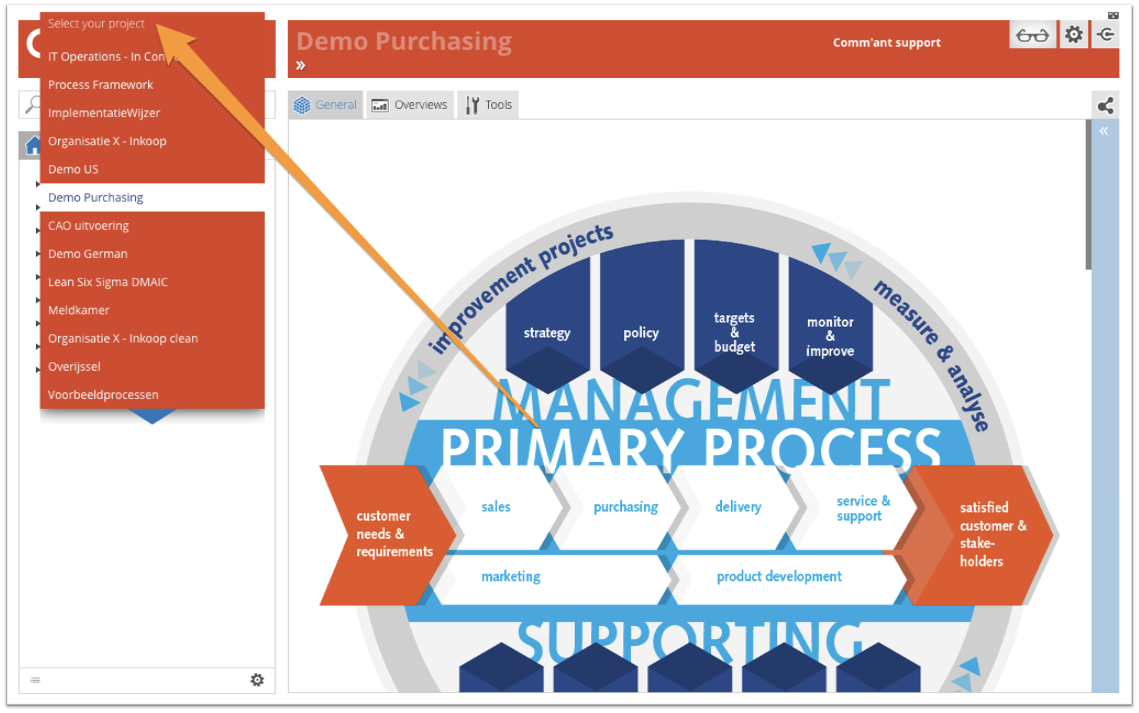 Generic buttons on the Application bar
At the top right you will find the buttons that are discussed in the table below. These six buttons represent these general functions:
Button
Meaning
View/Edit switch
With this button, you switch from view mode to edit mode and back.

Note: This switch is only visible for users with development rights.


Help
This button opens the Comm'ant Help.

Settings
This button opens the Comm'ant Settings.

Logout
Using this button, will log you out of Comm'ant and takes you back to the login screen.

Logout is important to end your session properly and prevent others from accessing your work.

Note: Closing the browser or a tab does not guarantee that your session is completely closed.


"Full Screen"-mode
This small button makes the Application bar and the Navigation menu reappear or disappear from view.
Tip for Windows users: Using function key F11 provides even more screen space. Pressing F11 works in all modern browsers as a way to enter and exit full-screen mode.
---