Navigating Comm'ant X
The left part of the screen shows the Navigation menu, a tool that enables you to access all the different objects that are captured within Comm'ant. The Navigation menu offers multiple ways to access the organizational agreements.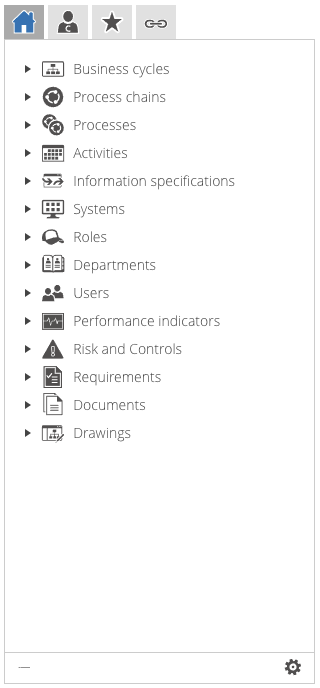 Depending on the chosen settings, these object types are visible (the objects are described elsewhere):
Business units
Process chains
Processes
Activities
Information flows
Systems
Roles
Organization
Users
Performance indicators
Risk and Control
Requirements
Documents/Links
Drawings
Sometimes not all object types are immediately visible. Comm'ant will show the entire list after clicking the button with the dashes in the bottom left of the Navigation menu.
It is possible that your organization chose different names for object types, e.g., Main processes instead of Process chains.
The available Objects and Groups for a specific object type become visible after clicking the left arrow in front of an object.
The Processes and Process chains are displayed within the Navigation menu in the tree structure that represents how they are connected. So, if you open a Process chain, for instance, automatically with each click the underlying Processes, Activities, etc. are shown.
In the Navigation menu, you can select the object you wish to examine, then click the icon, or the small arrow in front of it to further disclose the tree structure. Clicking it again will close the tree structure.
---